We hope you all had a lovely Christmas and wish you a very Happy New Year!
Welcome to the third blog from the team at Pontefract Racecourse.
Every fortnight, someone from the team will share their thoughts for your entertainment (or otherwise!):
Managing Director, Norman Gundill with his trusty PA, Caroline who also looks after the hospitality,
Accounts Manager, Nicola,
Admin manager, Carol,
Marketing exec, Alexia, who is writing this blog, and,
Chief Operating Officer, Richard.
Alexia's first blog – 6th January 2023
It may be best to start with who I am! I started working at Pontefract Racecourse in July last year, after moving back to Leeds from Cheshire. I studied Law for three years at university here, so its always felt like a second home. After graduating university in 2021 I moved back home and pondered on what I was to do next after deciding a legal career wasn't perhaps the best path for me.
I had to think about what it was I was interested in, and that was racing! Having spent the last three or four years working within the gaming industry and being brought up around the sport, the world of racing seemed like a good option to me.
I got into racing through my dad who has worked in this field for as long as I can remember, and I have been fortunate enough to grow up around horses, pictured below is my beloved Vinnie.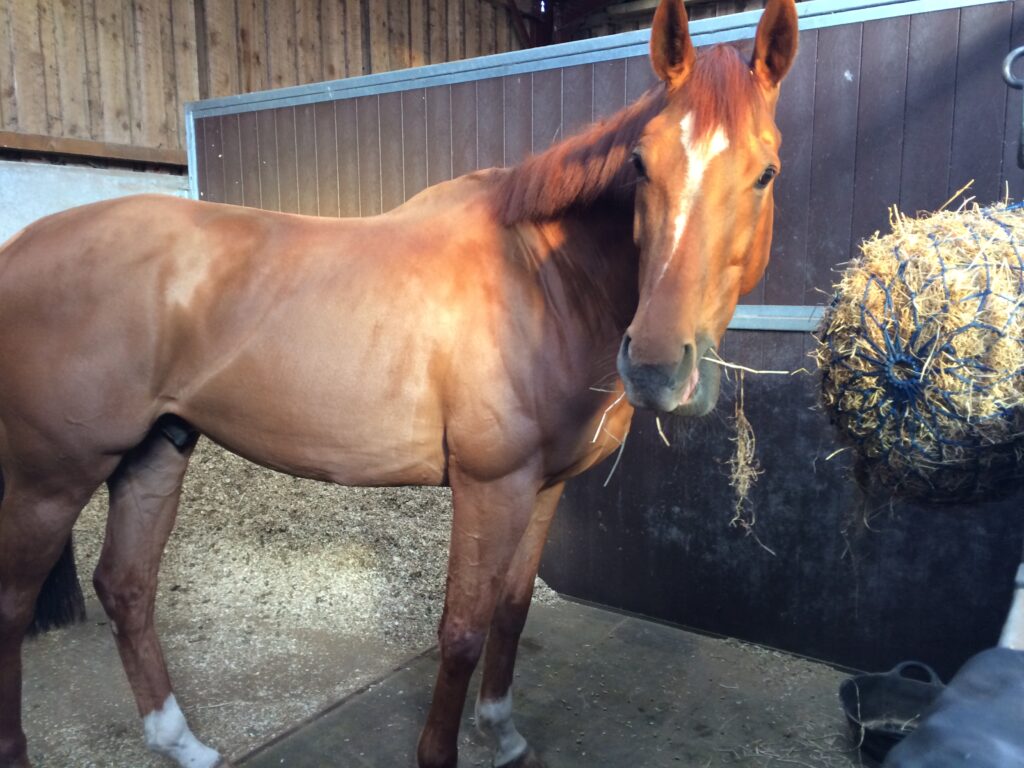 Vinnie came to us after retiring from racing when he was seven.
Vinnie's racing career lasted five years, during that time he got a couple of wins to his name and even ran in the Queens Vase at Ascot in 2009! Clowance House, as he was known on the track, was a son of Galileo, he started out on the flat with Roger Charlton before he had a change of turf and finished his career over fences.
So, I'd decided a career in racing would work for me, but not wanting to go down the riding route I wondered what could I do within the sport, how could I apply what I had learnt at university to horseracing?
Like many wanting to pursue a non-yard based career within the sport it can be a struggle to find a role that works for you, there are so many different jobs within horseracing, but sometimes it can be difficult to get your foot in the door and gain experience.
After daily checks on the careers in racing website, I found the Racing Media Academy (RMA), a week course down in Newmarket at the British Racing School followed by a six-week work placement with one of racing's leading media organisations, with the hope that it would open doors and help me find a job.
We were the first cohort of students to undertake the RMA, a career pathway created by broadcaster Josh Apiafi and his team to increase equality, diversity and inclusion into the sport. During our training week we met the likes of Clare Balding, Mike Cattermole, Lydia Hislop, to name just a few, who taught us all about the racing media!
I then moved down to London to work for JSC Communications, a sports PR firm specialising in horseracing, during my time there I was fortunate enough to work with the team at Epsom on the Derby and helped with the team at Royal Ascot.
It was an incredible experience, and myself and those on the course were very lucky to be the first ten graduates and are proud to be ambassadors for the Racing Media Academy.
From there I moved back home to Cheshire and I applied for the job here at Pontefract and luckily, Richard and Mr Gundill were kind enough to offer me the job! So, I packed my bags and moved back to West Yorkshire, and now here I am at Ponte Carlo!
On a raceday you will more than likely find me wandering around the racecourse with a camera in hand trying to snap some pictures and get content out onto our social media channels (please follow them!) Or having a chat with Richard in the Parade Ring!
I have really enjoyed my first 6 months here at the Racecourse and am looking forward the to start of the 2023 season.
Please feel free to come and say hello on a raceday if you see me 🙂
We will be back with another post in two weeks, see you then!