Welcome to another blog from the team at Pontefract Racecourse.
Every fortnight, someone from the team will share their thoughts for your entertainment (or otherwise!):
Managing Director, Norman Gundill with his trusty PA, Caroline who also looks after the hospitality,
Accounts Manager, Nicola,
Admin manager, Carol,
Marketing exec, Alexia, and,
Chief Operating Officer, Richard (who is writing today's blog)
Pontefract Racecourse is not only a Racecourse, but we're a part of a busy and thriving community. It is important for us to not only offer a fantastic venue for the racing audience, but to be able to support and benefit some of the under represented groups in our area.
We have worked with racing based charities such as Racing Welfare and The Injured Jockeys Fund for several years, but have extended our community based work to groups in the local area who had no particular connection to the Racing Industry and who, perhaps, felt that the Racecourse and what it had to offer, was outside their scope.
We started working with the Into The Sky Theatre Company in 2016. They are a group of young adults with varied special education needs and they meet at the Racecourse each week for a music and drama workshop. Many of the students are based in and around Pontefract and, by using the Racecourse space, they are able to work towards putting on theatre performances throughout Wakefield and the five towns.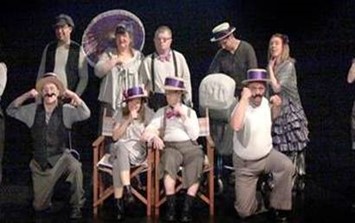 The group has a number of neurodivergent students as well as those with accessibility issues and many found themselves at a loss of what to do once they have finished their college courses. Allowing these young people to use a room at the Racecourse has given them the opportunity to thrive as well as celebrate and raise awareness of the creative talents of people with learning disabilities.
The Into The Sky Theatre Group are now an integral part of the Racecourse. Not only do they have a named race and a bucket collection to enable them to raise vital funds, they have been a huge help to the Racecourse in enabling us to upgrade our accessibility facilities – from giving feedback on viewing as well as what is expected of an accessible toilet. At our recent 'Racing For Everyone' raceday, we welcomed guests from Autism In Racing on site. They were able to meet some of the team members from Into The Sky to enable us to continue to improve and upgrade our facilities and understand what is needed.
We also have an annual Christmas party for the group and it's truly one of the highlights of the year for the Admin team. The anticipation of their ever changing version of the Twelve Days of Christmas is truly something to behold.
We've also been able to introduce the group to horse racing as well! The majority had never been to a race meeting before but are now regulars at our family events, as well as the music nights where they're able to take advantage of the dedicated accessible viewing areas that we have for these events. They were even filmed for the Sky Bet Sunday Series in 2022 and had their own slot on the ITV coverage of the race meeting.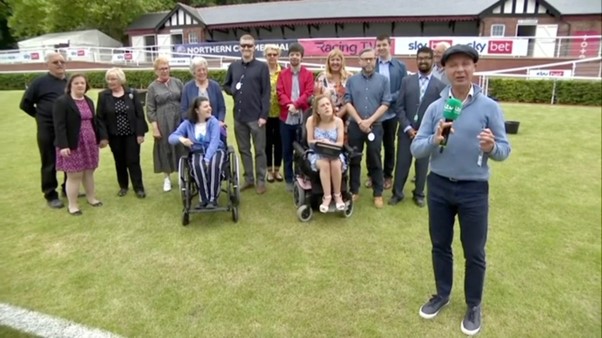 The Into The Sky Group, and their sister group Cross The Sky , go from strength to strength and have performances booked later in the year at Wakefield Theatre Royal and Barnsley Civic. If you get the chance to see any of their shows, make sure to do so. You won't be disappointed.