Welcome to another blog from the team at Pontefract Racecourse.
Every fortnight, someone from the team will share their thoughts for your entertainment (or otherwise!):
Managing Director, Norman Gundill with his trusty PA, Caroline who also looks after the hospitality,
Accounts Manager, Nicola,
Admin manager, Carol,
Marketing exec, Alexia,
Chief Operating Officer, Richard and,
Barney, Ruby, Toby, Daisy and Molly who are writing today's blog!
In today's blog we thought it was about time to introduce you to the true grafters in the office, the team that make Ponte so special, the ultimate back bone of the Racecourse – the office dogs!
We are lucky enough to have a team of five, four legged friends, with three permanent members of the team and two part timers who pop in to see us on a Friday.
First up we have Ruby. She has been part of the team for seven years and keeps all the boys in line! First and foremost, her role is predominantly being in charge of the kitchen. If there is any food consumption in the office, you can guarantee Ruby will be there to oversee it.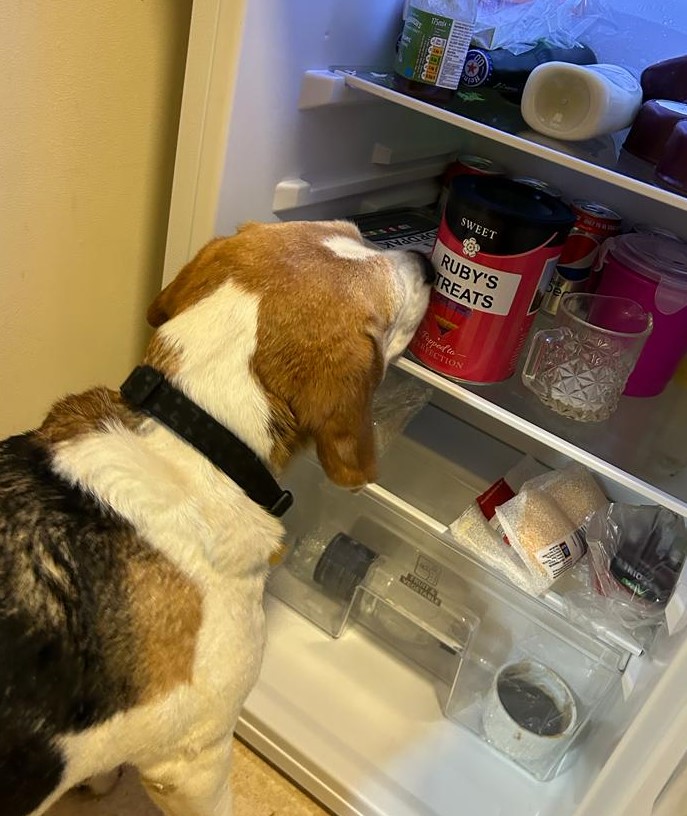 Ruby has, in fact, added to her responsibilities and taken over a new role as reception watchdog, which she has stepped into really well. It's great to see her positive attitude and dedication for the job. Ruby loves being in the office so much, that come the end of the day she refuses to leave her bed!
Ruby really is full of character and the office wouldn't be the same without her.
Next up we have Toby, aka Tony, who is very much in love with Ruby!
Our precious Toby has the important role of monitoring the printer, he deals mainly with scanning and photocopying.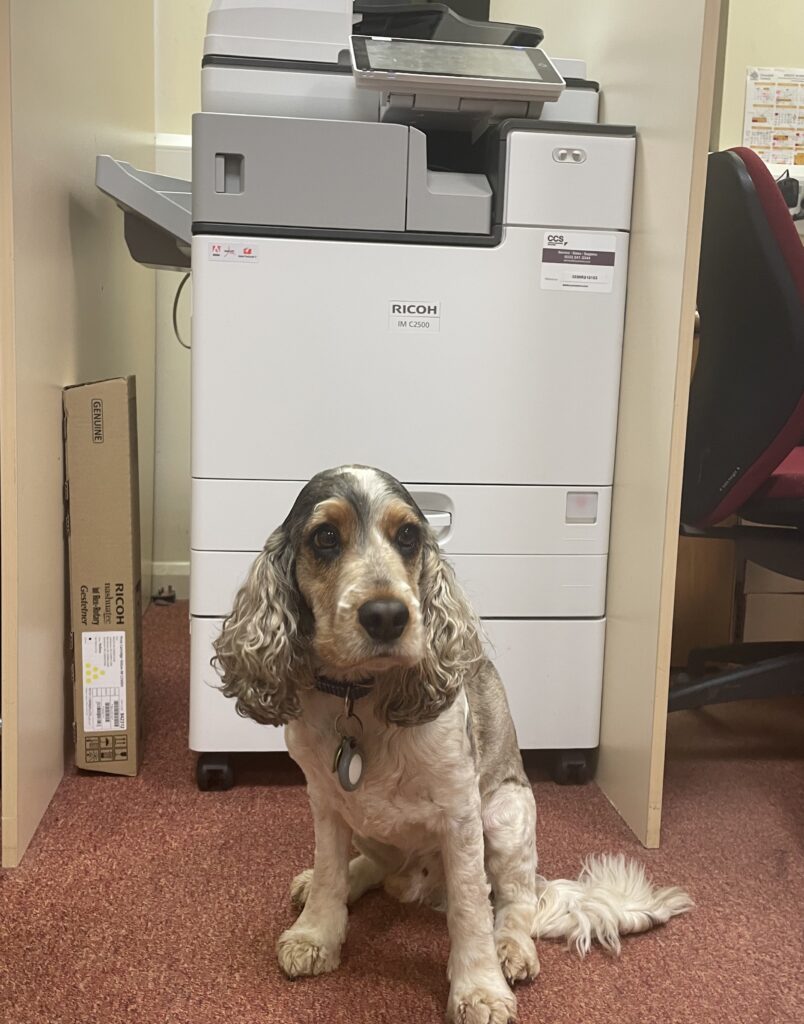 Toby's loves nothing more than chasing squirrels round the bins on his lunch break, but unfortunately he hasn't figured out just yet that he will never be able to catch one!
Its fair to say Toby is a Prince, and he sure knows it!
Making up the full time trio is Barney who proves age is just a number!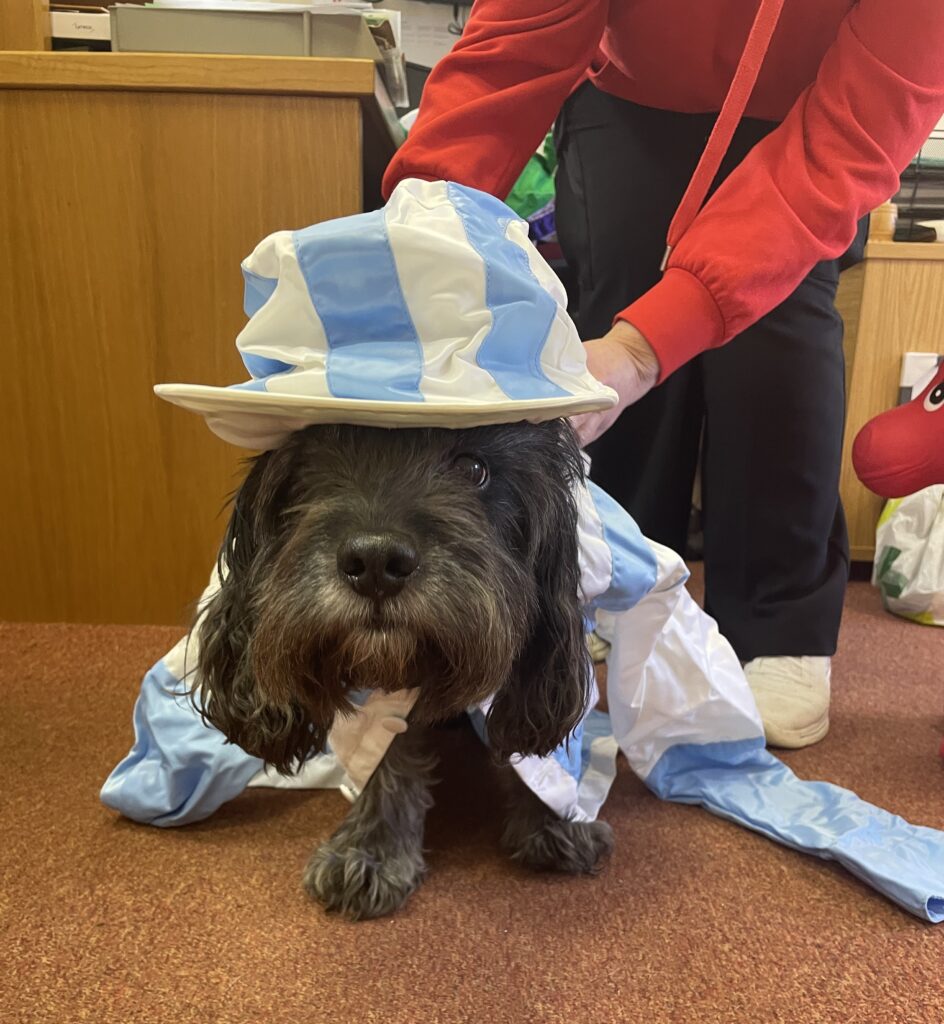 When he isn't chasing his dreams of becoming a jockey, Barney spends his time waiting for the postman to arrive at the end of the day and then informing us rather loudly that the postman has arrived.
Barney's favourite thing in the world, like his mum, is sausage. His second favourite thing is attention. If Barney isn't being hand fed sausage, he will scratch at anything and everything until he is! It has to be a sausage specifically as, like his mum, he's a fussy eater! We love his persistence!
Now time to meet the part timers!
First up is Barney's favourite Molly!
Molly definitely has the speed of a racehorse, but perhaps not the size. She does make a rather good jockey though!
Molly aka Houdini, is arguably the office flirt! It would be fair to say that you need to keep one eye on Molly at all times as she has become rather clever at stealing food right from under the nose of others and chewing whatever is in sight!
Last but by no means least is Daisy, the matriarch of the group!
While she may be in her later years, she still very much loves the buzz of the office and is always on the go, with a little guidance and support.
Thanks for reading, see you in two weeks!